Panic Door Options: All Glass & Full Framed Panic Doors
PRL offers an impressive selection of panic door options to create all glass and full framed panic systems. All fabricated in-house, we offer five all glass doors, three full framed clad doors and custom doors to adorn your emergency exit with distinction.
Available with your choice of the PL-100 or PL-110 panic device in standard round, standard mitered round or custom square styles, PRL furnishes a notable selection of the finest products to complete your panic system. We offer an abundant selection of glass types, premium quality door rails and patch fittings, and a vast collection of optional exterior handles.
ALL GLASS PANIC DOOR OPTIONS:
PRL extends a fabulous assortment of all glass door options to create captivating and secure glass door panic systems. Fitted with discreet hardware, our all glass doors provide a frameless appearance and a sweeping, generous view with fewer visual obstructions to distract from your emergency egress entrance.
PRL's all glass panic systems are fabricated from heavy glass doors equipped with our slim, 1-1/4″ diameter L-shaped panic devices. Fabricated in-house, PRL's all glass doors can be made in 1/2″, 5/8″ and 3/4″ tempered and laminated glass thicknesses.
PRL offers a premium choice of five all glass door styles. Available with continuous top and bottom door rails and a variety of patch fittings, PRL supplies everything you need to create a stunning glass door panic system.
WS450 Style I-Line Door:
A narrow, vertical stile all glass door equipped with continuous top and bottom rails.
FULL FRAMED CLAD PANIC DOOR OPTIONS:
As a pioneer in the glazing industry, PRL has adapted full framed clad doors to accommodate our panic devices to create full framed panic systems for commercial building envelopes. All extruded in-house, we offer a tantalizing assortment of full framed doors to showcase your emergency entrance with grandeur.
Designed with maximum visibility in mind, PRL's full framed clad doors are constructed using minimal seams and custom extrusions without visible glass stops. To provide a clean, minimal seam look, visible seams are utilized where stiles are joined with top and bottom rails. For improved weather control, adjustable weather stripping is used in vertical stiles.
Full frame clad doors are available in three different stiles to accommodate 1/4″ to 1-1/4″ glass thicknesses. Offered in an assortment of standard top and bottom rails, select from our collection of stainless steel, brass, oil rubbed bronze or custom finishes to add just the right touch.
Full Framed Clad Door Stiles:
PRL offers three full framed clad door stiles in a variety of top and bottom rail lengths. All expertly extruded in-house, we provide top quality doors that create durable, stylish full framed panic systems. Custom height top and bottom rails can be fabricated to your specifications.
Full Framed Clad Door Finishes:
Satin and polished stainless steel
Satin and polished brass
Oil rubbed bronze
Powder coat
Kynar paint
Custom finishes
Full Framed Clad Door Panic System Packages:
PRL is proud to be a true single source supplier offering complete full framed panic door options and packages to fill the most refined needs. With all hardware preinstalled upon delivery, our full framed panic door packages are manufactured and assembled in our facility, shipped ready to install.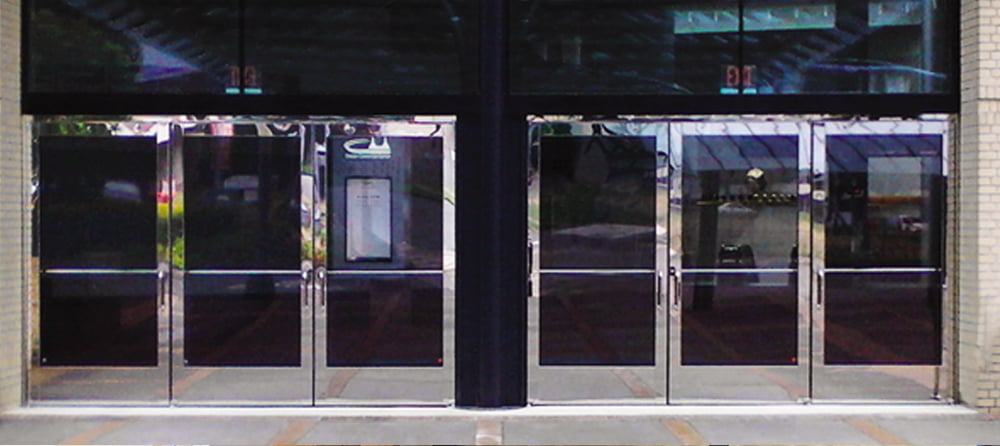 Fully fabricated and glazed in-house before shipping, PRL's full frame panic system packages include:
Full framed clad doors
Glass
Panic device
All related door rails
All related patch fittings
Option of an exterior handle
Additionally, PRL provides full framed panic systems with tubular and square panic devices with UL listings* in the United States and Canada. And with special UL certification we can ship internationally. We are the only entrance door supplier offering all these from one source!
* PRL's panic devices have been tested up to 2 million cycles in accordance to the American National Standard safety for panic devices (UL305), American Standard Institute (ANSI) and Builders Hardware Manufacturers Association, Inc. (BHMA) A 156.3-2008, Grade 1 certified.
Custom All Glass & Full Framed Clad Panic Doors:
At PRL, our specialty is designing products that combine premium quality glass with the finest metals, making PRL your go-to source for custom all glass and full framed clad panic doors.
Utilizing our cutting-edge technology and our extensive glazing, extruding and machining capabilities, PRL can produce an endless selection of custom glass doors and full framed doors to create an artistic, professional touch for your emergency egress system.
Want your corporate name or logo on your entrance doors? Choose our sandblasted glass or GlueChip lines to make your business easily stand out from the rest. Add beautiful textured, patterned or colored glass to create privacy or partial transparency for your doors. To create eye-catching designs for full framed panic doors, select a custom metal stamped pattern, metal infill panel or an intermediate vertical or horizontal mullion.
Regardless of the customization you choose, PRL can bring your visions to life with exceptional all glass or full framed panic systems that will stand the test of time.
All glass doors
Full frame clad doors
Door rails and patch fittings
Optional exterior handles
* Some limitations may apply. Please consult with a PRL representative for details.
#1 Choice among specifiers and architects for complete emergency exit door systems.
PRL is Southern California's leading glass and aluminum manufacturer.