Complementary  Panic Products and Online Ordering
Shop PRL's complementary panic products for your emergency egress systems. Available for purchase through our online ordering portal, you'll find 6 series of aluminum storefronts and a huge collection of entry door hardware. A great way to create storefront fire exits and outfit evacuation doors, these complementary panic products will meet your commercial needs. They include 3 series of offset glazed storefronts, 3 series of center glazed storefronts, and a vast array of door rails, Euro patch fittings, headers and more.
Our online ordering platform is the way to bid complementary panic products. Accessible 24/7, we're there when you need us- and without the hassle of long lines or phone delays. Just click on your items, add them to your cart, then check out with our secure payment system. As the only glass fabricator offering online ordering and quoting, we make buying emergency egress materials easy.
In a crunch and need your complementary panic products fast? Request expedited shipping with our Urgency Program. You'll get the fastest lead-times in the industry and receive your components in as little as 3 days or the next day! Not sure if we can deliver to you? No worries. Covering an expansive territory, we can ship our materials around the globe. Whether your local to us in Southern California, within the continental U.S., Hawaii, or international, we'll get your complementary panic products to you.
PRL's 24/7 Online Quote and Order program makes quoting and buying our products quick and convenient. Register now to purchase all your panic door device hardware at PRL today! ...Register Now.
Visit PRL's ARCAT® page and score free BIM content! You can download Architectural Building Information Modeling (BIM) objects, families and system files in revit or dwg formats. For use with all major BIM and CAD software, options include AutoCAD, Sketch-Up, ArchiCAD and more. Formats include RFA- Revit Object, RVT- Revit System, DWG- AutoCAD and Sketchup. By downloading and using any ARCAT® BIM detail you agree to the following [license agreement].
Subscribe to our YouTube channel today and see all we have to offer! You can view a wide range of videos to learn about our products and how to order them. Examples include available panic device designs, our glass door manufacturing capabilities, how we extrude aluminum, and how to quote and order products online. And check back often. We're always adding new videos!
Need some new ideas for your glass door panic system? Find inspiration by browsing PRL's panic device catalog! Whether you're looking for panic devices, door options, glass types, hardware or exterior handles, they're all in there. PRL- we provide solutions.
Complementary Panic Products: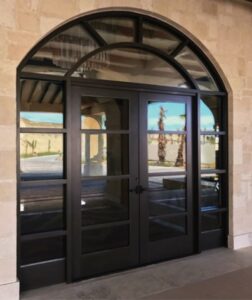 Custom Storefront with Horizontal Muntins & Curved Transom.
Complementary Panic Product: 250 Aluminum Storefront Series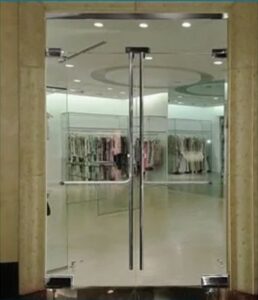 All Glass Fire Exit with Door Hardware in Brushed Stainless Steel Finish
Complementary Panic Product: Header, Euro Patch Fittings & Samson Patch Closers
Check out our online ordering portal. Accessible any time of day, you can quote a wide range of our complementary panic products, hardware collections and complete product lines. Using your computer or device you'll find everything from aluminum storefronts, IG units and laminated glass panels to entrance door, shower enclosure, and curtainwall hardware.
Bidding with us is simple. Our online ordering program displays detailed information about each product. You'll be able to see the cost immediately, compare product features, update quantities, and delete items in the Quote Review. Then, to place your order, just email it to us and you'll receive a confirmation within minutes including the details and your ETA.
Our online ordering platform makes your shopping efficient. You can select up to 5 products at a time, checkout in a flash with its secure payment system, and track a new or previous order's status. As the only glass fabricator offering this service, there's no reason to buy anywhere else. Day or night, we put shopping at your fingertips in a variety of ways.
Aluminum Storefronts: Offset & center glazed
Frameless Shower Door Units: In-line, 90°, neo-angle & more!
Shower Sliders: Contoured, Tiffany, Ruby & Dual Bypass
Laminated Glass Panels: Bullet resistant, SentryGlas®, colored & more!
IG Units: Double & triple glazed, inboard/outboard combos
Glass & Mirrors: Standard, oversizes & custom
Entrance Doors: Glazing channels, locks, pull handles & more!
Curtainwalls & Storefronts: Snap caps, fillers, head cans & more!
Tiffany & Ruby Sliders: Sliding tracks, rollers, floor guides & more!
Handrails & Guardrails: Base shoes, top caps, stand-offs & more!
Shower Enclosures & Sliders: Hinges, clamps, support bars & more!
Glass & Glazing Products: Polishing belts, glass cutters & more!
Get in on the benefits of PRL's Urgency Program! You can expedite delivery and receive complementary panic products with the fastest lead-times in the industry. Accessible via our online ordering system, most of your quotes and confirmations, this service puts our products at your doorstep faster than our standard 5 working day lead-time. Instead, your materials will arrive in as little as 3 working days or the next day*.
Our Urgency Program is excellent for planning and budgeting your projects. Estimating charges for different ship dates within our manufacturing capabilities, you can pick the cost and lead-times that are right for you. We also offer local and out of area expedited special delivery at an additional cost. Lead-times do not include shipping or transit. They're calculated once job confirmations are signed off and approved.
So why take any chances? Use our Urgency Program and get your complementary panic products when you need them. Whether it's an aluminum storefront or hardware for its emergency egress doors, this service is quick, convenient and easy to access. Available 24/7 through our online ordering portal, we're there when it matters.
Urgency Program, Lead-Times & Shipping Charges
Urgency Program Features:
Gives you the fastest lead-times in the industry!
Receive products in 3 working days or next day*
Found on your quotes & order confirmations
Available 24/7 through our online ordering system
* Next day delivery subject to expedited shipping charges
Lead-Times & Shipping Charges:
Standard lead-times 5 working days or per your quote
Calculated after job confirmations signed off & approved
Shipping charges based on dates within production capabilities
Local & out of area special delivery offered at additional cost
PRL's Delivery Territories:
Need your complementary panic products shipped to you? No problem. Our delivery territories expand the globe. How do we do it? Using our transportation fleet of 25 vehicles and common carrier. Ordered online or by phone, we'll get your storefront, fire exit, or entrance door hardware to your address. We deliver locally, nationally and internationally.
We're proud to provide our customers with a broad delivery territory. With 2 facilities located in the City of Industry, CA, we can ship your complementary panic products to Northern and Southern California in addition to areas in Arizona, Nevada, Hawaii and even Mexico. Near or far, we've got your back. Our delivery territories will get your materials to you.
Transportation Fleet of 25 Vehicles Delivers To:
Northern & Southern California
Arizona
Nevada
Mexico
Common Carrier Delivers To:
Hawaii
Mexico
Nationwide
Internationally
Explore PRL's Complementary Panic Products & Online Ordering Portal!
We offer convenient 24/7 online ordering for many complementary panic products on our website. You can also quote by phone during regular business hours at 877-775-2586. And, using our Urgency Program, you can expedite delivery and receive your products in as little as 3 days or the next day!