3 Stunning Panic Door Device Styles.

PRL's glass door panic system in round, mitered and square designs provide slim, smart, uninterrupted views on your all glass doors. Also adaptable for full framed clad panic device doors with an infinite array of custom glass door options. A vast collection of door rails and patch fittings as well as a medley of dazzling finishes. PRL- we bring your visions to life!
PRL's 24/7 Online Quick Quotes and Orders program is intended to make quoting and purchasing quick and convenient. Purchase all your panic door device hardware with PRL Today! ...Register Now.
ARCAT® BIM content - Architectural Building Information Modeling (BIM) objects / families / system files, free to download in revit or dwg formats for use with all major BIM and CAD software including AutoCAD, Sketch-Up, ArchiCAD and others. Formats: RFA- Revit Object | RVT- Revit System | DWG- AutoCAD, Sketchup - all cad software By downloading and using any ARCAT® CAD detail content you agree to the following [license agreement].
View all of PRL's Architectural Glass and Metal Products on ARCAT®.
Here you will find Videos on "How to Quote and Order" PRL Products Online as well as many other New videos surrounding our all glass door manufacturing capabilities and our many panic device designs. ...View and Subscribe on Youtube TODAY!
Need Some New Ideas for Your Glass Door Panic System?
Find inspiration and ideas by browsing PRL's panic device catalog! Whether you're looking for panic devices, door options, glass types, hardware or exterior handles, they're all in there. PRL- we provide solutions. ...Download PRL's Panic Device Catalog.
PL 100 Top Latching Panic Device
Latches into door header
Meets A.D.A. regulations
Stainless steel construction
Slender, 1 ¼" L-shaped design
Dogging feature for secure 24/7 access
Tested in accordance to ANSI standards
Adaptable to small format IC core cylinders
PRL panic bar protective covering
3 Panic Device Styles:
Standard Round:
A round style with smooth, rounded corners.
Standard Mitered Round:
A round style with sleek 90˚ mitered corners.
Custom Square:
An innovative, square panic device with 90˚ mitered corners and crisp clean lines and edges. The first ever to design a square panic device, PRL pioneers ahead of the competition bringing you this visionary PRL exclusive.
Panic Door Options:
5 All Glass Door Styles:
P style
BP style
F style
A style
WS450 I-Line style
Glass Thicknesses: ½", 5/8" & ¾"
3 Full Framed Clad Door Stiles:
3" narrow stile
4" medium stile
5 ½" wide stile
Glass Thicknesses: ¼" – 1 ¼"
Door Rails & TVS Patch Fittings:
Door Rails:
Dry set door rails
Wet set door rails
Rapid dry set sidelite door rails
Total Vision System (TVS) Patch Fittings:
Sidelite/transom pivot brackets
Sidelite/transon fin brackets
Transom door stops
Wall/transom pivot brackets
L-Angle fin head brackets
90˚ glass-to-glass connector patch fittings
And more!
PL 110 Floor Latching Panic Device
Latches into floor
Ramp or dome strike options
Stainless steel construction
Slender, 1 ¼" L-shaped design
Dogging feature for secure 24/7 access
Tested in accordance to ANSI standards
Adaptable to small format IC core cylinders
PRL panic bar protective covering
Glass Door Panic System Finishes:
Polished stainless steel
Satin stainless steel
Polished brass
Satin brass
Oil rubbed bronze
Powder coat
Kynar paint
Custom glass door panic system finishes
Glass Type Options:
Tempered
Laminated
Insulated
Low E
Tinted
Reflective
Textured
Patterned
Spandrel
Sanblasted
GlueChip
Custom
Optional Exterior Handles:
Exterior Panic Handle Series:
Designed to match our interior panic devices
Available in all industry standard styles from A to Y
Exterior Deadbolt Handles:
Complements panic systems beautifully
Available with keyed cylinders or thumb turns
Optional top latch bolts for electric strikes
Custom Exterior Handles:
Bring your visions to life. Customize your exterior handle.
Solid and mixed finishes
Personalized logos and curved, tubular, geometric and S-shapes
PRL's Glass Door Panic System.
Complete-ly Captivating.
Alluring? Ravishing? Awe-inspiring? Sure. But at PRL, we prefer complete-ly captivating. That's because we offer all-inclusive panic systems for all glass doors and full framed clad doors that are, well… captivating. Extending a bountiful array of panic system products, we supply everything you need to create an entire emergency egress system. That's right. We have it all. Complete-ly.
Simply Beautiful Panic Door Devices.
No more clunky horizontal bars that consume your glass door views. Just simply beautiful doors from PRL. Fabricated from narrow, 1 ¼" diameter stainless steel tubing and sporting a slender, unassuming L-shaped design, our glass door panic system boast delicate profiles that won't distract from the beauty of your doors. Just simple, refined elegance that accents panic entrances.
Looking for a Panic Device That Meets A.D.A. Regulations?
The PL-100 is The Choice for You.
Designed to latch into the door header, the PL-100 panic device is equipped with a top latching mechanism at the top of the door that interfaces with a manual or electric strike. You asked. PRL delivered. This top latching design accommodates wheel chair access and meets A.D.A. regulations.
Panic System Features & Options
When Your Looking for Only the Best
We pride ourselves in supplying top quality products our customers have to come expect. Our glass door panic system is no different. Fabricating all our products from the finest materials, we provide durability and uncompromised quality. Make sure your emergency exit makes a good first impression by ordering with PRL TODAY!
Entrance Doors, Panic Devices and Hardware Catalog
UL Certified & Tested in Accordance With ANSI & BHMA
Tested up to 2 million cycles
PRL's panic devices have been tested up to 2 million cycles in accordance to the American National Standard safety for panic devices (UL305), American Standard Institute (ANSI) and Builders Hardware Manufacturers Association Inc., (BHMA) A 156.3- 2008, Grade 1 certified.
Unlimited Glass Type Options. You Name It. We Fabricate It.
Offering infinite glass options for all glass or full framed panic door systems. From functional to decorative glass types, we have it all. Offering everything from tempered and insulated glass types to tinted and sandblasted, we provide a dazzling array of glass options for emergency exits.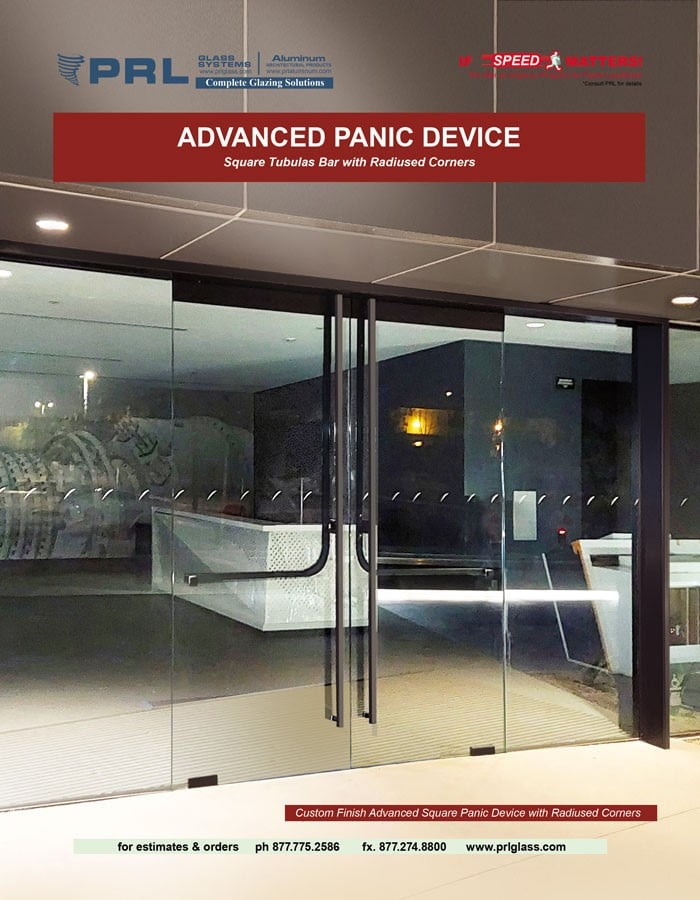 Quote PRL's NEW Advanced style panic device. Now we have 4 for commercial fire exit doors. Designed with square tubing and radius corners, this push pad features the same great benefits as our other panic devices. UL certified and tested to 2.0 million cycles, it can be used on multiple door types to satisfy emergency egress regulations. Read More...
"I was using different fabricators before PRL, but I had too much fabrication and back orders problems.
Thanks to PRL my business now runs smoothly with minimum back orders or mistakes".
"They are fast glass fabricators. #1 in my list of vendors. Thanks for another great year!"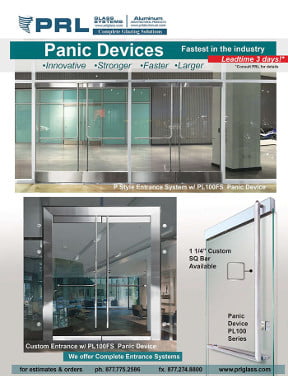 Beautiful, expansive views, oversized all glass fire exit doors and 3 panic device styles! Available in a large selection of panic device finishes and glass types.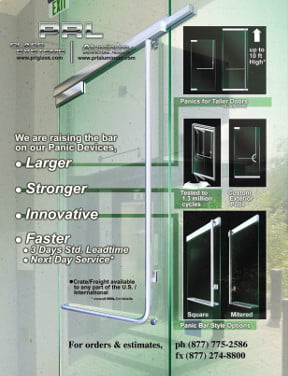 As Southern California's leading glazing and aluminum manufacturer, PRL's glass door exit device offers three exclusive features not available on other manufacturers' panic devices.